Plumbing
Repair, Installation, and Service
Expert Plumbers in Iowa
New Plumbing – Emergency Plumbing Service – Plumbing
Maintenance
Need plumbing repair? Call Wallin. We have the plumbing repair experts you need (even if we didn't install it the first time).
Plus, you get:
Prompt AC service, 24 hours a day, 7 days a week
A 100% satisfaction guarantee
Professional, licensed AC mechanics you can trust
Plumbing equipment we handle
Leak and Freeze Detectors
FAQ
Example Bathroom Design With Measurements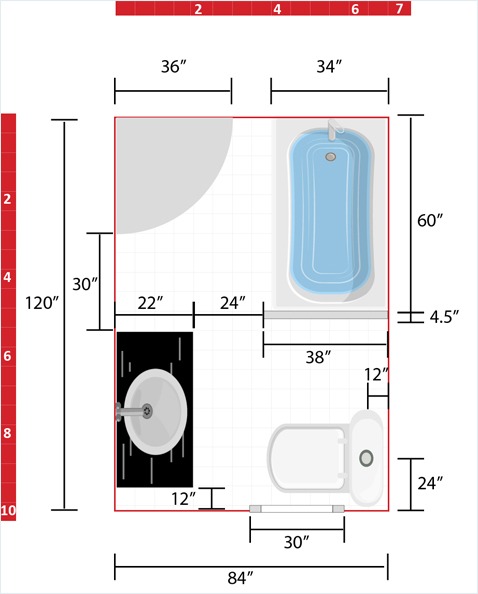 We will not install fixtures/faucets bought at other places such as lumber yards, box stores, amazon, etc..
Showers:
Any size is possible for a shower, we have just given standard sizes as templates.
If you are needing a custom size shower, just hand draw it in and label it with all appropriate measurements.
There are many choices of add on accessories on showers that we will discuss when you come in, such as:
soap dishes
shower caddies
shower doors
grab bars
faucet style and color
Tubs:
Templates are standard stocking size.
Options to consider when selecting a tub may include:
Tubs come either in alcove or a drop in type application.
left, right drain
left, right faucet
wall mount or deck mount faucet
Toilets:
We will need measurement from wall behind toilet to center of toilet base. Toilets come in 2 different heights, standard and comfort, comfort height is ideal for a home with no children or a master bathroom
Vanities:
There are several sink types:
double bowl
single bowl
vessel sink
ped lavatory
If customer is providing vanity, it needs to be onsite or we need to be
provided with a rough in diagram so we can rough plumbing in correctly.